The mobile web is essentially ubiquitous at the point. We have access to nearly any piece of information we need in most of our pockets. We can watch baseball games, record a video and bash egg thieves with Angry Birds.
As communications professionals, how we put our messages together for the mobile Web is essential. How we craft strategies to tell our stories and create media that utilizes the mobile platform matters. Only 15 months after its launch, mobile text messaging platform textPlus announced that more than 3.5 billion messages had been sent.
According to a recent Comscore report, 81.7% of mobile users in Europe sent a text message in June, 2010. In Japan, 75.2% of mobile users browsed the internet, accessed applications or downloaded content from their mobiles. In the table below, you can see the most popular destinations mobile users access from a mobile device.
Top Mobile Social Networking/Chat/Blog Brands in Japan, United States and EU5 (UK, DE, FR, ES and IT) by Audience Size

June 2010 Total Mobile Audience Age 13+
Source: comScore MobiLens

Japan
United States
Europe
Mixi
Facebook
Facebook
Gree
MySpace
YouTube
Twitter
YouTube
MSN / Windows Live / Bing
Mobage Town
Twitter
Twitter
So, where does this leave us? It leaves us needing to develop strategies for utilizing the mobile Web as a communications channel.
SMS: Simple Messaging Solutions
At this week's BlogWorld Expo, I will be a part of a panel with special guests Kenny Hyder, who has years of experience in SEO and mobile optimization, and Dave Fleet, VP of Digital at Edelman Toronto. We will be discussing the importance of mobile content for bloggers and in the communications industry.
There are three factors to consider when assembling a mobile plan: content, accessibility and integrated strategy.
Smart phone apps limit the interaction with the Web as a whole, so the need is to create content that is easily portable, easily found. This content is brief, to the point and actionable (yes, I know this post is more than 500 words…). It conveys your message and messaging but is also portable and gives the reader a reason to act and share the content.
But getting that content found is becoming more of a challenge. Applications that are single-purpose have limited our interaction with the broader Web. Having an understanding of search, accessibility and the ability to drive actions through a mobile device will help us create integrated strategies that provide value to a wide network of readers.
Global mobile Web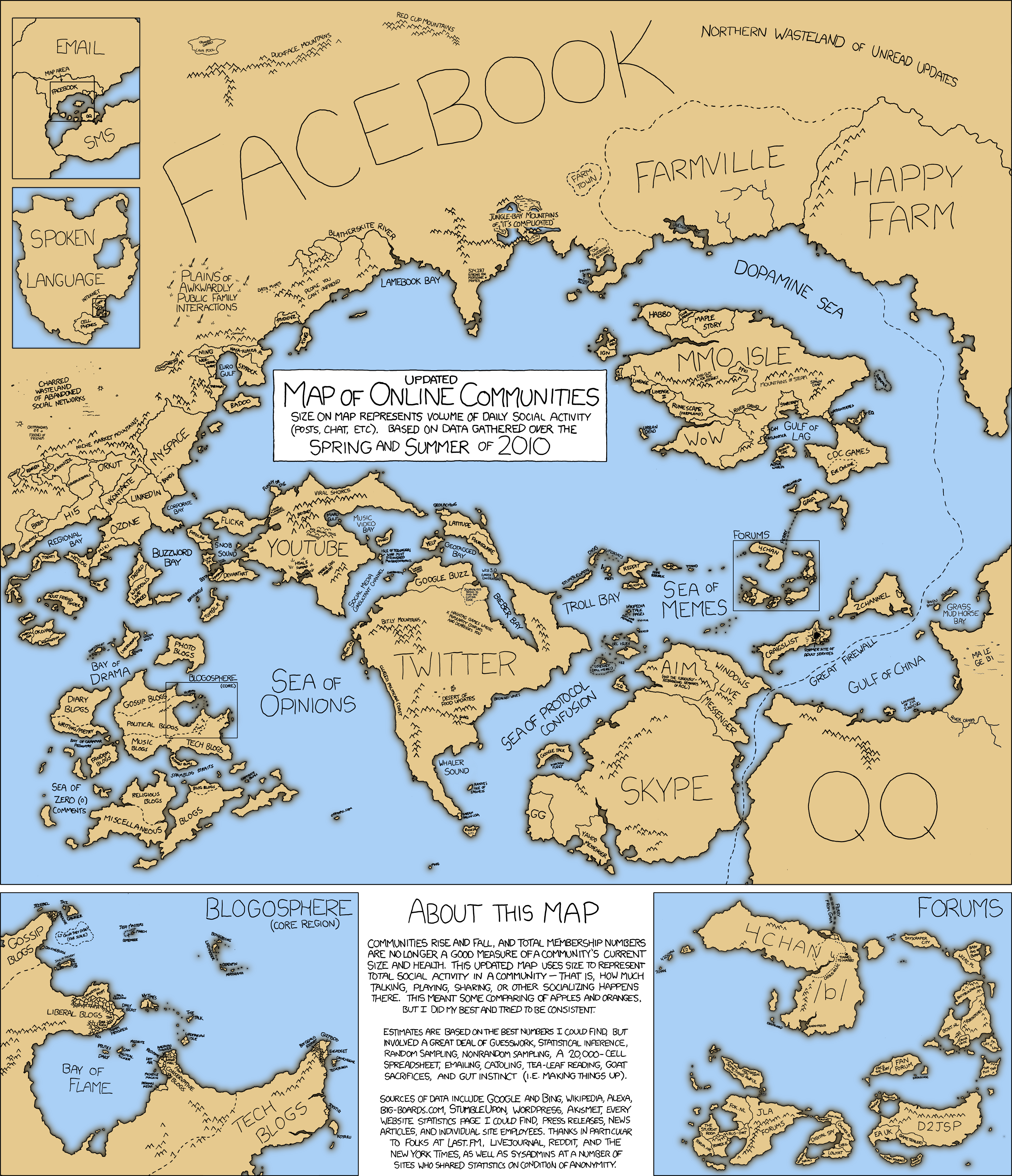 XKCD made this map to show the relative scale of various social networks. The various social networks occupy how we interact. But the real impactful part of this is in the detail in the upper left. Spoken language is still about 90% of our interactions. But in most of the world, SMS is the number one form of digital communication. Email still trumps all, but even that is just a portion of our communications.
The more we isolate ourselves on the islands of Twitter or the Bay of Flame in the blogosphere, the more of a disservice we are doing to those that our content could reach.
Being aware of how we tell our stories and how we integrate the multiple technologies that surround us to tell those stories will make our communications strategies that much more effective.